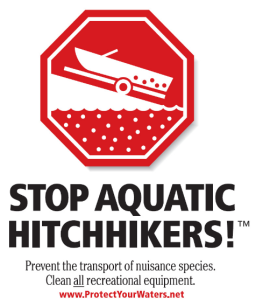 Click here to read Blackwater's full AIS Plan.
Protecting all Minnesota waters from Aquatic Invasive Species (AIS) is as easy as 1 2 3.
1. Remove all visible plants, fish and mud from your boat and equipment. Don't be duped into transporting AIS that are too small to see. Mud, sand and vegetation can hold immature larvae.
2. Eliminate water from everything including motors, live wells,boat hulls, shoes, waders, bait buckets, swim floats and anywhere water pools.  Recreational equipment has many places where water can collect and harbor AIS.
3. Clean and dry anything that came in contact with the water. Boats, trailers, equipment, clothing and dogs. Wash dogs in hot water and brush their coats. Boats, equipment and clothing should be washed with hot (104 degrees) water. If hot water is not available, use a high pressure spray to clean.  For hard to reach places use AIS eliminating solutions of a 20 minute soak in 100% vinegar or a 24 hours soak in a 1 % salt water solution (2/3 cup table salt to 5 gallons of water). After cleaning, let everything dry. If you park on black top and let the boat sun dry, the high temperatures will destroy AIS in hard to reach places.
If possible, dry equipment for five days before entering new waters.
Get in the practice of Remove then Eliminate then Clean & Dry.  Developing good habits now may save Blackwater Lake and other bodies of water from hitchhiking aquatic invasive species.
For more information visit:
http://www.protectyourwaters.net/
http://www.dnr.state.mn.us/invasives/aquatic/index.html